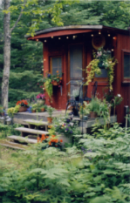 I live in the woodlands of northwest Wisconsin and work in a studio in the city. Life is a web of connections, an exploration into the riddles of rhythm. By choice I live a low-impact lifestyle... firewood for heat, water carried from a nearby well into my renovated caboose home. The forest is soul fuel. This heart beat of the earth is a vital plexus of threads. Weaving cloth, stitching, knitting, and sculpting previously worn fabrics are metaphors for walking a balanced relationship between all my worlds.
Fiber intrigues me. I see it as a basic element that connects us organically and symbolically with the natural world. This connection is an essential one of body, mind, spirit... science and art.
From plant fibers – cotton, linen, rayon, corn, bamboo;
animal fibers – wool, cashmere, mohair, angora; and silk from the silkworm;
to our very bodies of hair and skin, sinew and muscle, bone and heart....
we are all fiber; raw material immersed in the mystery of life.

My work is an elemental exploration of raw material; fiber, thread, color, energy and motion. It is a multi layered journey. This 'art for the body' is made using a combination of new, organic, and recycled materials. The techniques I use stretch familiar and ancient motions of working with yarn and cloth in unexpected new directions. Gently worn garments are cleaned and cut apart. The shapes that emerge are sculpted into mantels, scarves, wraps, and wings. The pieces are folded, shaped, knotted, edged, and stitched into free spirited multi-use wearables that transform with the wearer.
The gratitude series uses many layers of fabric slivers that are collaged and stitched into bags. Thread is my paint brush. It infuses strength and dances the story into form.
Sweaters are intarsia and free-form knit. Their birth is a knowing in my bones.
Gifts from the forest... ferns and sasparilla leaves... are used to discharge dye denim. This fabric becomes the base for day bags with knit pockets.
Color and story are constant juicy companions in these processes. I believe cloth becomes infused with the energy of the maker and the soul of the wearer.

Each piece that comes thru my hands starts out as strands of yarn or slivers of fabric, and, just like our lives, changes and grows, bit by bit, until the story is almost complete. Then it's up to you... to fill the bag, wear the sweater, or drape the wrap... and open to the next chapter.
Biography:
Erika Mock is a Swiss-born award winning textile artist, designer, knitter, weaver, and instructor/facilitator who has been exhibiting and selling her work at juried art shows across the US for the past 30 years. Her 'textiles for body and soul' focus on the elemental relationships that link the human to nature. She dedicates herself to creating cutting edge, often recycled, eco wearables that explore identity, clothing as expression, and the infusion of story into cloth.
In 2007, Erika conducted textile research in Guatemala to explore the Mayan world-view that 'cloth is life'. Since 2004, she has been curating fiber biennials in Superior, WI as an educational and cultural experience. She is a 2013 graduate of Intermedia Arts Creative Community Leadership Institute, an active member of the Superior Arts District Development Group SPACES (Superior Public Art Creating Community Environments) and Past Director of Phantom Galleries Superior, a program she Co-founded, which places 24/7 temporary art installations into vacant storefronts and presents not only an economic initiative and community involvement, but a way that art interacts with, communicates, and gains meaning from its environment.